8 Most Important Responsibilities Of A PCBU!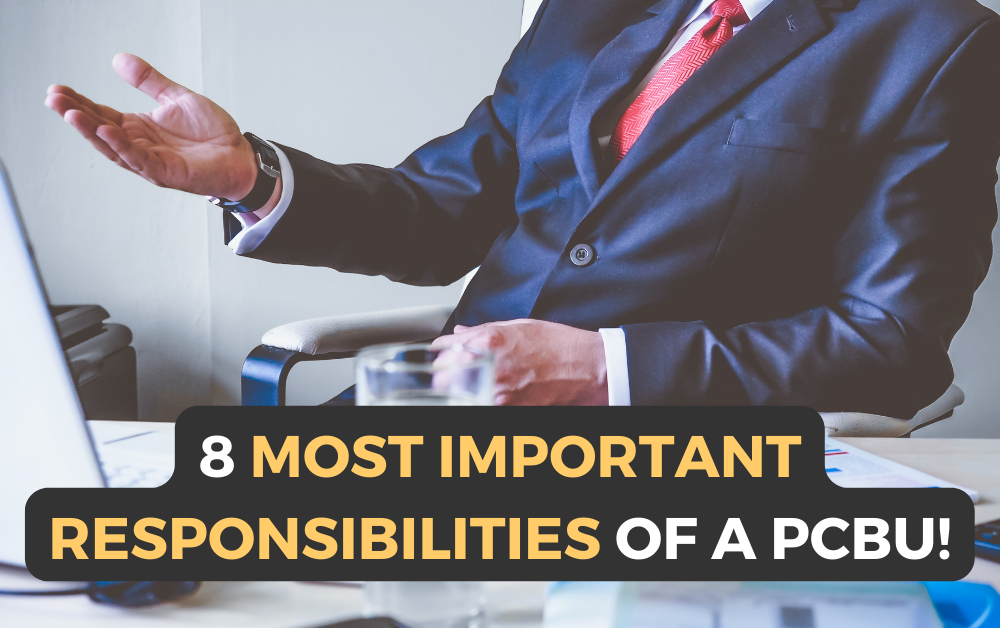 Are you a PCBU? If you are a PCBU and don't know your responsibilities, it's time to read this article!
What is a PCBU?
A person conducting a business or undertaking (PCBU) has a primary duty to ensure the health and safety of workers while they are at work in the business or undertaking and others who may be affected by the carrying out of work, such as visitors.
Reference: https://www.safeworkaustralia.gov.au/law-and-regulation/duties-under-whs-laws/duties-pcbu
The legislation states that a PCBU has a primary duty of care and must, so far as is reasonably practicable, ensure the health and safety of their workers.
As a business owner, you should always keep in mind that the primary responsibility of a PCBU is to ensure that health and safety requirements are complied with.
This article outlines eight important responsibilities of a PCBU that everyone who owns a company should be aware of.

Primary Responsibilities of a PCBU

You might think that you already know everything about your responsibilities as a PCBU, but it's always good to know exactly what falls under that category.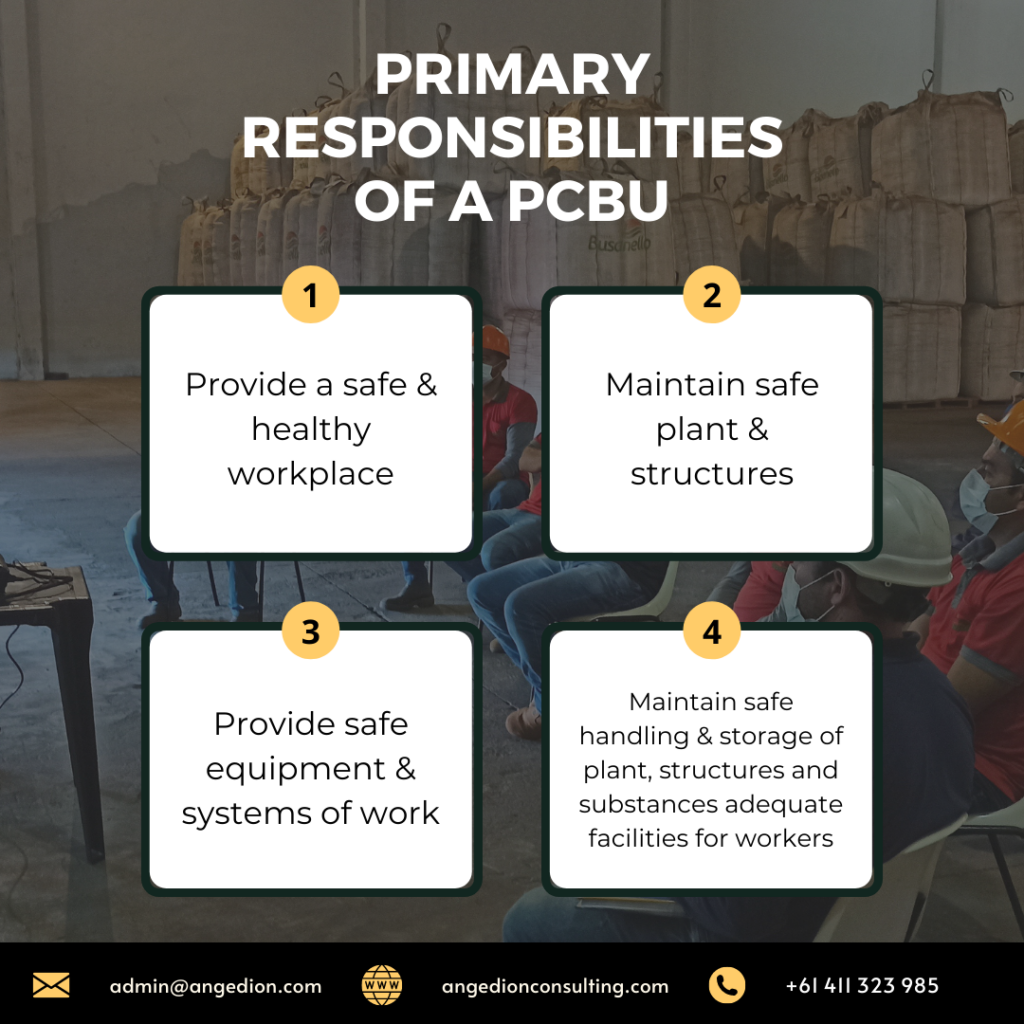 ✅ Provide a safe & healthy workplace
✅ Maintain safe plant & structures
✅ Provide safe equipment & systems of work
✅ Maintain safe handling & storage of plant, structures and substances adequate facilities for workers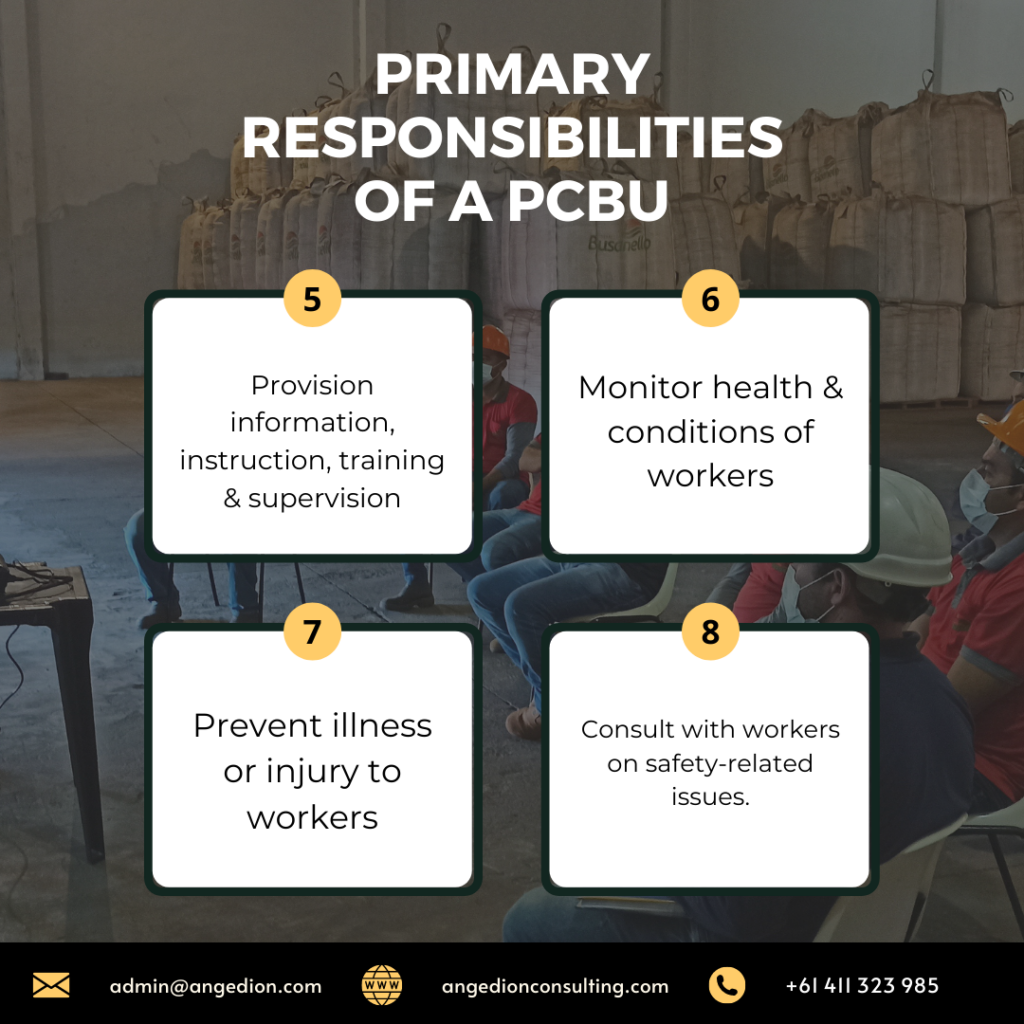 ✅ Provision information, instruction, training & supervision
✅ Monitor health & conditions of workers
✅ Prevent illness or injury to workers
✅ Consult with workers on safety-related issues.
Running a business without taking full responsibility for the health and safety of your workers can get you into trouble. Some businesses get shut down if the PCBU doesn't follow these responsibilities.

⚠️ Failure to comply with all these responsibilities has serious consequences. You could be subject to an unlimited fine, imprisonment, or both. Check out one of my blogs regarding the 3 Categories of Offences for not having safety systems in your business.

If you would like a complimentary review of your safety needs in your business please contact us on 0411 323 985.

Take the time to update your safety at work practices now