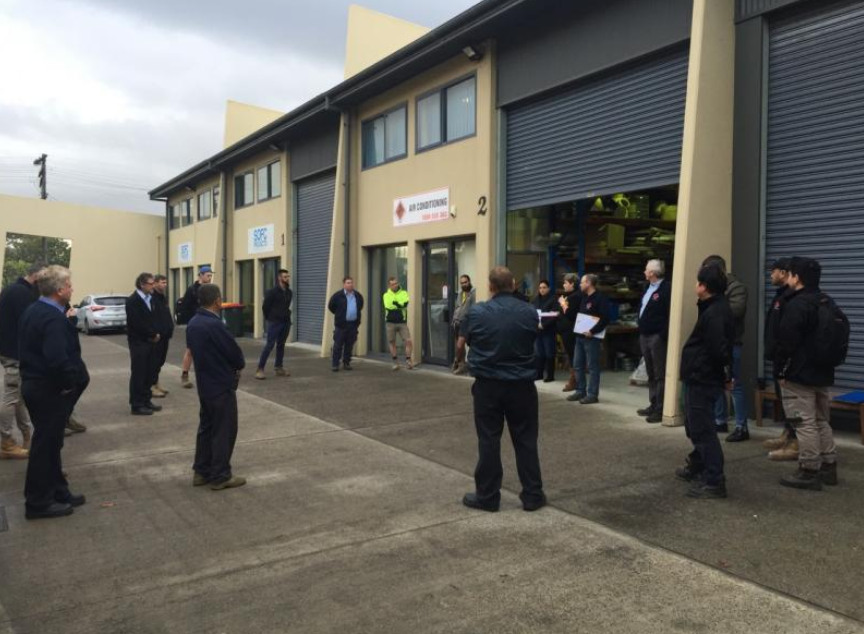 Empowering team leadership and safety performance. Motivating and training employees at all levels to care about and follow safety programs and effectively build a safety culture in your company. Making SAFETY more than just a slogan.
Coaching and Mentoring Small business in all aspects of Safety Management Systems, creating documentation relevant to their scope of works, implementation of these systems, monitoring/ reviewing for compliance.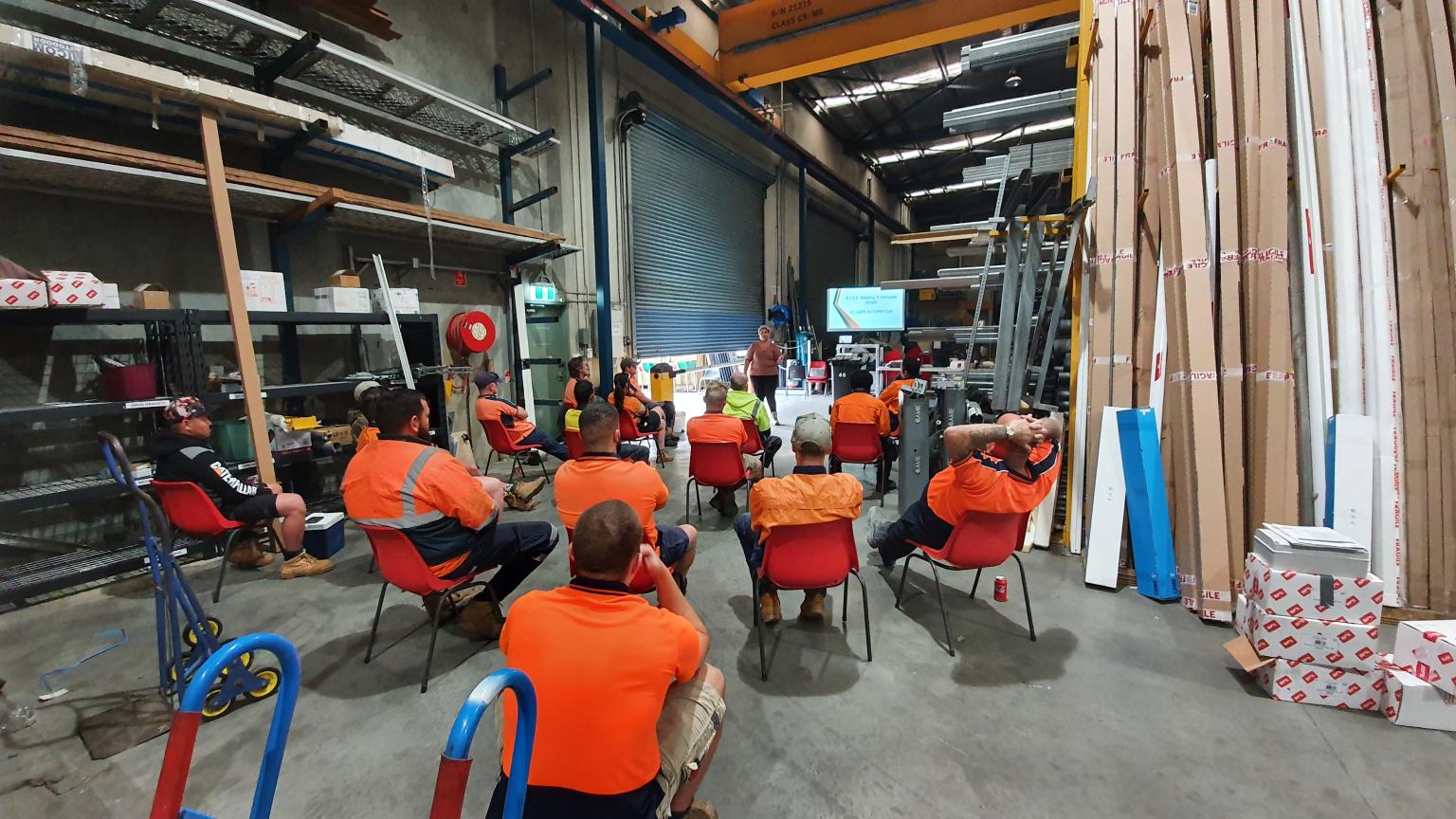 Stay Compliant and Create A Safe, Healthy, and More Productive Workplace.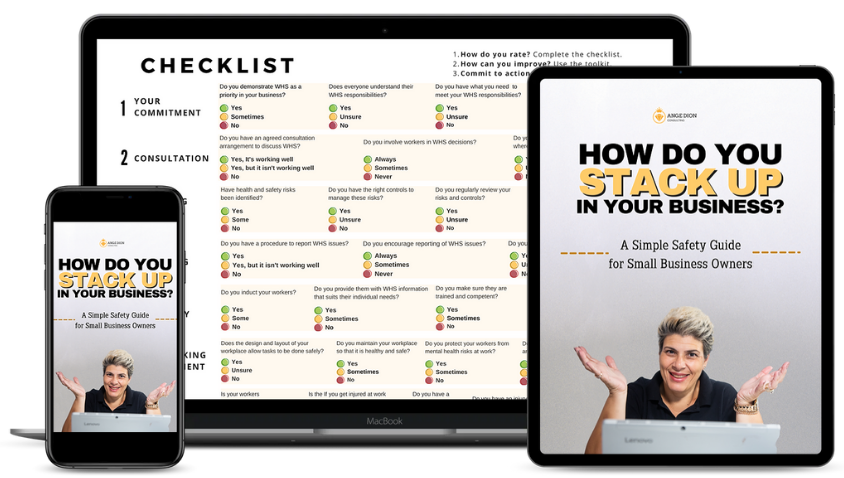 Answer the questions provided relating to the 7 Component of Work Health and Safety, and you will be well on your way toward creating a safe environment for your business and for those who work for you.
Proud to work with the leading companies in many industries to ensure their continued safety and compliance.
Ange Dion Consulting aims to provide support to businesses in order to keep their safety system up to date. We ensure that Business Owners and Workers can feel safe when they work in the business.
Benefits of Hiring a Safety Consultant
WHS Consultant, Speaker, Trainer, Mentor, JP
Ange Dion, Director of Ange Dion Consulting, is our Work, Health and Safety Consultant. She is also a Speaker, Trainer and a Mentor.
She has created and implemented safety services and programs for over 17 years in the Safety Industry. She has taken her experience into many construction sites.
Working with different teams & projects on the following matters:
"My experiences, trainings, and coaching skills can help your team achieve results in many areas of your business operations." - Ange DION
What Our Clients Have to Say
Ange Dion consulting was amazing to work with. Ange had my company Cm3 accredited within 72 hours, were others couldn't. Ange is very professional,courteous and her work ethics are fantastic. She new exactly what to do. I would highly recommend her. Thank you for all your efforts. Thank you very much for all your efforts.
Mark Mavrick
CEO - PMV Painting
I would like to take this opportunity to recommend Ange Dion. Direct, astute, knowledgeable, sincere, friendly, and a very straight-shooting person both in a professional capacity and in person. Just talk to Ange regarding health and safety in your workplace. Your consultation will be well rewarded.
Nicky Stamos
AUDITOR
Ange set me up on the CM3 platform in July 2020. I couldn't have done it without her. With experience working for large contractors and large corporate entities, Ange is perfectly equipped to guide you through the maze that is OHS processes and compliance. I have no hesitation in recommending Ange to any organisation requiring support in the area of OHS.
Damien Howes
CEO - HOWES HOOD & DUCT CLEANING
Thank you for all your help and hard work over the last couple of months, you really have been my saving star, and I expect Ange Dion Consulting to be the biggest WHS and Business Tool in the future!
Gabriel Sigimis
Managing Director - Ventacon
Ange, it has been fabulous working with you, and we would like to thank you for all your tremendous efforts since the ARA acquisition. I think the new team will have big shoes to fill in your absence. All the best, and do hope to talk to you prior to your departure! Xx
Creina Wells
Financial Accounting Officer
You will be sadly missed. Your commitment to excellence and exceeding our expectations is to be applauded. You have never put off doing what needs to be done …. with you urgent does mean urgent …turn around and it's done!!! Cheers
Bill Rushton
National Director - Services Company
I currently work with Ange, she is our WHS Consultant & Coach at City Building Services. Ange is a very committed colleague and aspiration to our company, she always goes the extra mile for our team and provides some of the highest quality service i have seen over the years. Ange is a strong asset for many businesses and i would emphatically recommend her for any business needing WHS consultancy, coaching & support.
Nathan Wood
City Building Services
Check Our Safety Packages
ONE-STOP-SHOP SAFETY
One-stop-shop approcach for all your safety needs
Monthly retainers for Tradies

Access information on Work Health & Safety, Return to work, Mental Health, and Covid-19 related concerns in your workplace via phone and email support

All documents updated within 48 hours
Safety Speaker for Safety Training, Meeting or Events
Ange will work along side you to help you achieve Health and Safety success in you business
Complement your existing safety culture

Work together to achieve less incidents

Improve understanding and create engaged, happy and healthy employees
Safety Templates for Your Business
Set up Small Safety System with Company Logo, Brand, Details and Policy
Review of Current Documents

Free discovery call to discuss your business and your business needs.
BASELINE PACKAGE
Business analysis to identify your Safety Systems
12 months of Coaching & Mentoring

Review of your current Safety Systems & documentation and implementation of new systems

Email, Text or Phone Support

All safety requests closed out within 3 days

WhatsApp group for messaging team to share tips and insights in safety
PLATINUM PACKAGE
Business analysis to identify your Safety Systems
12 months of Coaching & Mentoring

Review of current documentation, Safety Plan, SWMS, MSDS and more..

Set up and implement your Safety Management Systems tailored to your business needs.

Assistance with site-specific requirements for major contract works.
Take action so we can work together